If we are to have real peace, we must begin with children.   ~Gandhi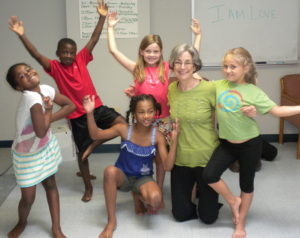 Classes are offered for school age children to include children with Autism Spectrum Disorder (ASD). We are available to start a children's yoga class and/or mindful skills program at schools or camp locations. Group and private classes are offered for students and/or teachers.
Sharon trained as a children's yoga instructor with Kidding Around Yoga and completed Level 1 training with the Mindful Schools, Berkeley, CA.  She has been teaching two yoga classes a week at The Jordan Lake School of the Arts (JLSA) for the past seven years. She also presents an annual workshop at The Magellan Charter School in North Raleigh for the 6th Grade classes. Besides leading yoga classes, she does a slide show about her travels and studies in India. Sharon has also taught children's yoga at the Wythe Summer Camp in Durham, Chapel Hill Parks & Rec and at numerous village schools in Kanvera, India.
She has witnessed how the practice of yoga continuously supports children in their classrooms, homes, sports and relationships. And, most importantly, students are learning life-long skills on how to calm their breath and mind and have present-moment awareness.
Some of the many benefits of children's yoga: improves flexibility, strength, coordination and balance. Helps develop attention span, focus and listening skills. Increases self-esteem, body awareness, improves gross and fine motor skills. Develops self-expression and self-confidence while relaxing the mind and body by de-stressing in a safe and nurturing environment. Read more on the Benefits page!
If interested in starting a children's yoga class at your school or camp, contact Sharon: sharon@yomayoga.com or 919-444-3436.
All children's classes emphasize creativity while incorporating structure. Classes include postures, songs, stories, games, partner poses, breathing practices and relaxation. Students are given the opportunity to speak in front of the group and try new activities if they would like. Jumping like a frog, roaring like a lion and doing the "massage train" and "yoga slide" are always favorites!